The 4G smartphones that have rocked 2016 have a lot more to offer in terms of style and features. Not just that, they offer genuine competition to the much touted iPhones (and not merely in terms of affordability, which is a key Android USP). Just take a look at the sleek, lightweight Mi 5, which has premium-quality processes while also being light both on and in the pocket. Or the ergonomic Moto XPlay, with its lag-free performance and top-notch display. There's a lot of great front-running technology packaged at very reasonable prices. Our #FlipTrends data has given us insight into the top-selling 4G phones of the year and ruling the roost are phones like LYF's Flame 8, Micromax Xpress, Samsung On5 and On7, Lenovo Vibe K5 Note, Mi Max and more.
The list: Top 10 4G phones of 2016
Check out the Flipkart Stories list of the top 10 4G phones of 2016. You can even buy most of these phones using the Flipkart mobile exchange program.
LYF Phones – Flame 8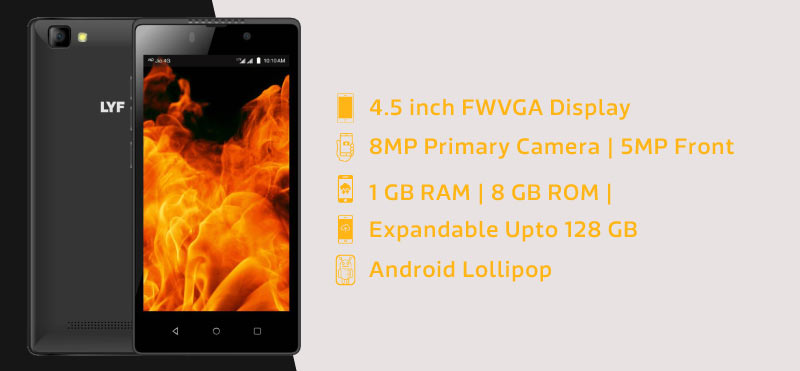 Economically priced at just Rs. 4199, the Flame 8 offers quintessential smartphone features for a super affordable price. With a 1 GB RAM and 8 GB expandable ROM, expandable to 128 GB, the phone allows for easy app access with minimal lag and seamless multitasking. It even has a 'Beauty Mode' filter on its camera, which allows for better snapchatting and Instagramming! With all the basics down and features that include 4.5 inch FWVGA Display, an 8MP primary camera, a 5MP front camera for the selfie lovers, a Smart Sense feature that lets you access up to 4 apps at a time and more for a competitive price, the Flame 8 brings you the best of 4G technology without breaking the bank. What's more, the phone also comes with complimentary unlimited access to 4G Data for 90 days as well as access to the Jio App. Offering TV shows via JioPlay, HD songs in over 20 languages via JioBeats, movies via JioOnDemand and a variety of magazines in regional languages via JioMags, this is your gateway to entertainment like you've never seen before!
---
Micromax Canvas Xpress 4G
This pocket-friendly smartphone is best known for offering lag-free video streaming with a 1280×720 pixel resolution on a 5 inch HD display—offering seriously good quality for the ideal price of Rs. 5999. The 2 GB RAM and 16 GB ROM, which is expandable to 32 GB allows you to instantly access web content without too much break or delay. The 5 inch HD display and 2,000 mAh Li-Ion Battery along with a 8MP primary clicker and a 2 MP front clicker with a 2,000 mAh Li-Ion Battery running on a Cortex-A53 Mediatek MT6735P processor packs in the features and the power. No wonder then that the Xpress is one of the most popular 4G smartphones of the year!
---
Samsung On5
For those of you who miss the much-forgotten FM Radio feature that was once such a staple on mobile phones, the Samsung On5 smartphone is bringing back quality music in a big way! In addition to FM Radio, the phone also gives you access to Mix Radio, and with the "sound adapt" feature, you can tune the phone to suit your listening needs giving you a better, more customized music experience. Priced at Rs. 8490, the phone also comes with a Smart Manager that takes care of your RAM, storage, battery and device security, thereby streamlining the operations and making for an overall sleeker, more user-friendly phone. With specs that include a 1.5 GB RAM expandable up to 128 GB, a 5 inch HD Display, a 8MP primary camera and a 5MP selfie camera with a 2600 mAh Li-Ion battery, the On5 is a worthy contender for the top sub-10k smartphone.
---
Samsung On7
Described as being "budget category, yet fully-featured", the On7 is priced at an affordable Rs. 9290. Not only offering the look and feel of a high-end model, with its leather-back cover and sleek 5.5 inch display, it also has some genuinely top-quality performance features that make it a front-runner in the smartphone market. The 13 MP rear camera and 5 MP front camera come with a quick launch feature, a wide viewing angle and are also enhanced with gesture recognition and beauty mode features — giving shutterbugs and Instagram-fiends a run for their money!
---
Lenovo Vibe K5 Note
Running on Android Marshmallow, this Lenovo Model offers with 4 GB RAM and 32 GB ROM, which is expandable up to 128 GB. The 5.5 inch display is full HD, and along with a 13 MP primary camera and 8 MP front camera, offers high-quality graphics for game play and photos. Available for Rs. 13499.
---
Mi Max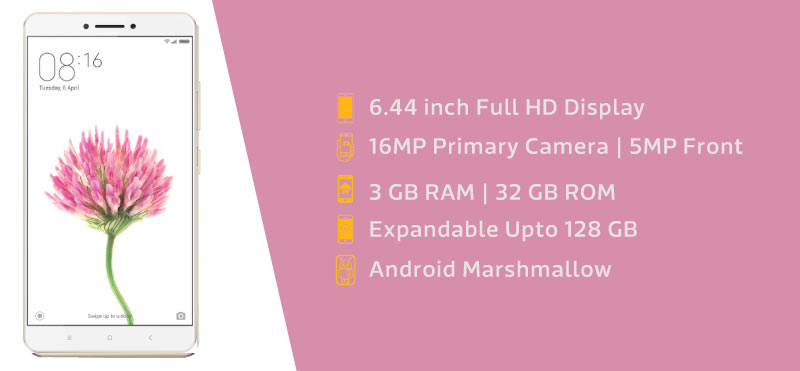 Easily one of the coolest phones of 2016, the Mi Max brings the future right to the palm of your hand. It can be programmed to work as a remote control for your TV, music system, and even your air conditioner, among a host of other remote controlled devices, so say hello to IoT! Running on a Snapdragon 650 Hexa-core 1.8 GHz processor, the phone allows for better app launches and a much more improved user interface. With a 3 GB RAM expandable up to 128 GB, a 6.44 inch Full HD Display and a 16MP primary camera, the phone maintains its act with a 4850 mAh Li-Polymer Battery and runs on Android Marshmallow. The Adreno 510 600 MHz GPU also makes it ideal for gaming. Available for Rs. 14999, the phone certainly stacks up the specs at a budget-friendly price!
---
LYF Earth 1
At Rs. 16999, the Earth 1 gives you a 3 GB RAM, an expandable 32 GB ROM, and an impressive 5.5 inch full HD display. It has a 13 MP rear camera and a 5 MP selfie camera, along with a 3500 mAh Li-Ion polymer battery. A must-have for the smartphone enthusiast of 2016.
---
Moto X Play
The unique selling point of this smartphone is the longer-than-most battery life to fuel our frenetic lifestyles along with Turbocharging abilities. A fact that is sure to impress present-day users, the Moto X Play offers a 3630 mAh battery that, with normal usage, would last up to 2 and a half days! In addition to this, the phone also offers full HD screen resolution and voice assist. High-end quality, combined with full functionality including a 1.7 GHz Qualcomm Snapdragon 615 Octa-core processor, 2 GB RAM and a superb 21 MP camera for a competitive price of Rs. 17499, makes this one hard to miss.
---
LeEco Le Max 2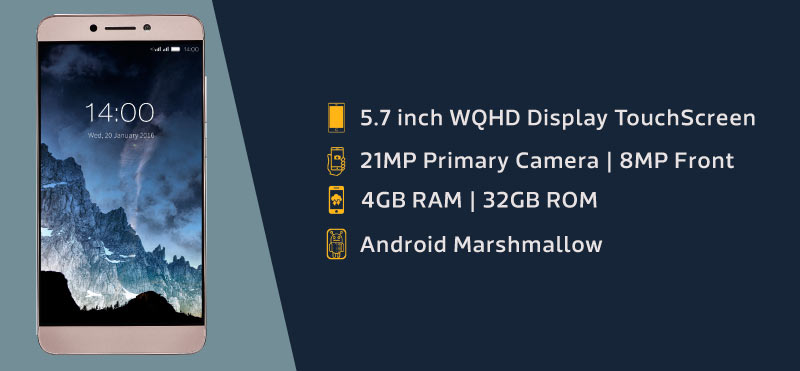 Described as offering a "complete mobile ecosystem," this phone is perfect for gamers and music connoisseurs alike. Featuring a Continual Digital Lossless Audio for an enhanced musical experience, it runs on a Qualcomm Snapdragon 820 processor, which makes for lag-free multitasking and game play. The custom-built cores work together to ensure there are no glitches when multiple apps are running together so suit those of you with hectic lifestyles that combine work and play. Overall the phone features 40% enhanced graphic processing, power efficiency and computing capacity and with a price of Rs. 22,999, it's a steal unlike any other.
---
Mi 5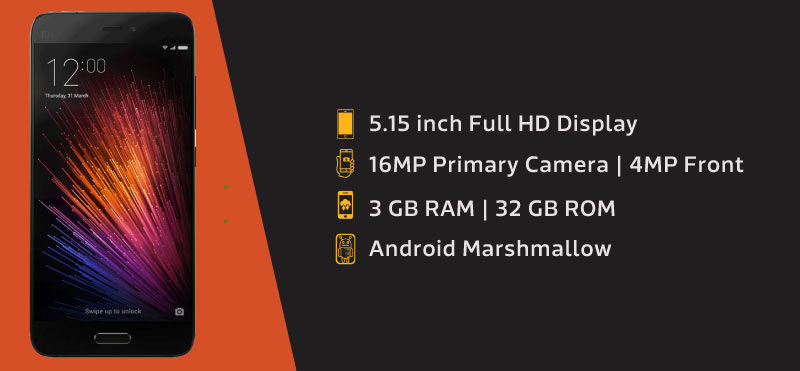 The Mi5 is an exceptionally lightweight, tapered phone offering an exemplary look and feel while also allowing for a comfortable grip. Combine the 5.15-inch full HD display with the 4-axis optical image stabilization and you get glossy graphics at any time of the day and under any source of light. Turn the phone to 'reading mode' and you'll ease the strain of reading the news or that new e-book under blue light. The Mi 5's Adreno 530 graphics processor added to the HD screen also makes it a must-have for gamers. Priced at Rs. 22,999, this is the 4G smartphone that has ruled the sales roost of 2016.
---
Check out the full range of 4G smartphones on Flipkart here