On January 15, 1934, when the world was still basking in the glory of a new year, disaster struck a mighty mountain country. An earthquake, magnitude 8.0 on the Richter scale with its epicenter just 10 kilometers from Mount Everest, unleashed shock-waves through parts of Nepal and Bihar. In moments, over 10,000 lives were lost. Eighty-one years later on April 25, 2015, the calamity repeated itself with horrifying similarity.
As lives stood still – The 2015 earthquake
"When the 2015 earthquake struck, we were already involved in long-term relief and rehabilitation efforts in Uttarakhand—supporting the 2013 Rahat Flood victims there. This earthquake was devastating, as it highlighted the increasing frequency of natural disasters in this region which has brought much destruction and misery to the people here," says Ruchika Gandhi, Goonj's National Coordinator. Goonj is an award-winning, pan-India voluntary organization. For more than a decade, the NGO has been pioneering efforts to provide disaster relief, humanitarian aid and community development support across India.
Niranjana Ravi, former Chief of Staff to Sachin Bansal, Founder and Executive Chairman, Flipkart, recalls, "At the time when the quake hit, Flipkart wanted to find the fastest way to provide support for the victims and a reliable partner to channel the efforts. Hence we reached out to Goonj."
Flipkart and Goonj quickly drew up a plan for the quake relief effort. A channel was created for employees, customers and partners to extend their support, and messages seeking donations were put out. Generous contributions poured in.
#QuakeRelief #Flipkart Always happy to be associated with you. Keep the good work. #LoyalCustomer 🙂

— Sohail Asif (@sohailasif1993) April 30, 2015
Done my bit…feels good!! #quakerelief #flipkart

— Prashant Nair (@prashnair) May 2, 2015
Please Donate For Nepal..! #flipkart #quakerelief #help #donate #nepal #india #prayers https://t.co/201BxqqPVA

— Saral Chopda (@saralchopda) April 30, 2015
The collective human spirit
Flipkart committed to match the contributions that came in from employee and customer donations. In just a few days, INR 81,80,508 pooled in through the external channel. "It was truly heartwarming to see people come together for a common cause…" says Sachin Bansal, his eyes twinkling with satisfaction, "…and this time, they visited Flipkart not for shopping!"
In the past, Sachin has been a close follower of Goonj's efforts and is today a patron deeply involved in their work. Just a few months ago, Goonj founder Anshu Gupta invited Sachin to celebrate the organization's annual day in Delhi. Anshu, a recipient of the prestigious Ramon Magsaysay Award 2015, says, "We were very happy when Sachin and Priya [Sachin's wife] joined us in our celebrations this year. Flipkart has always been close to our heart and during the 2015 earthquake they really stood by us, supporting our work throughout."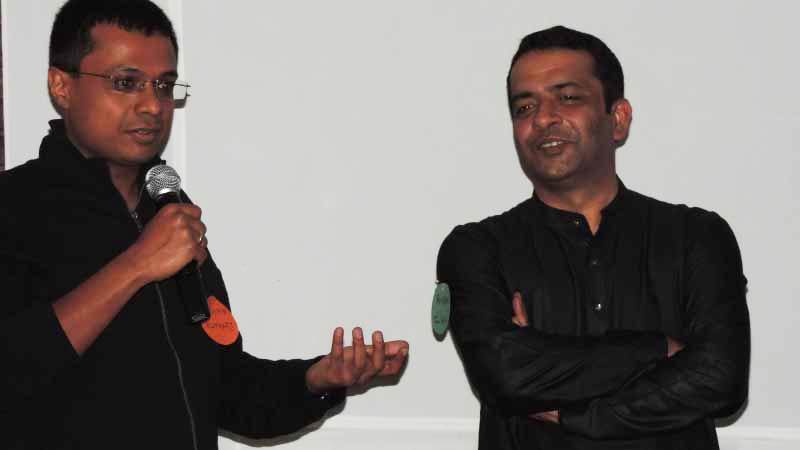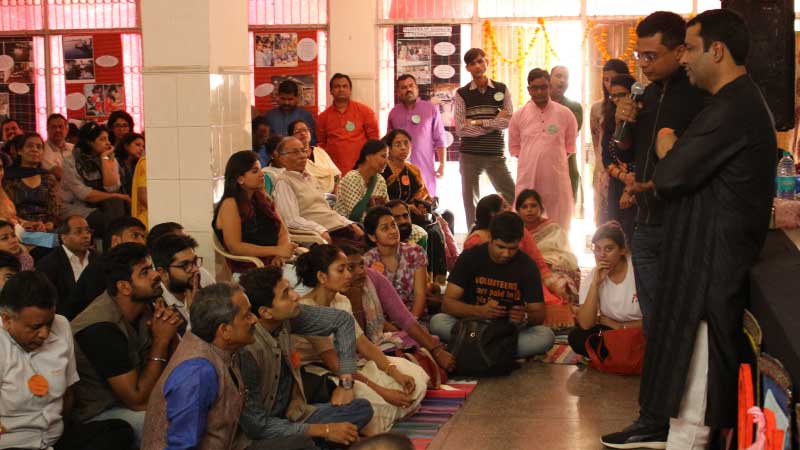 While the 2015 quake relief efforts have made life better for many in the disaster-affected zones, the eventful journey has had its share of challenges.
In May 2015, Flipkart gathered a relief fund amounting to INR 2,00,00,000—from customers, employees, the founders and the organization's fund. Since the quake took its maximum toll in Nepal, the initial efforts were focused there.
Rules of the land, regulations and reach stood as a barrier in connecting with Nepal. Monetary aid was not an option in the foreign land and NGOs based in India required special permissions to provide support. "Fortunately, we were already active in Nepal relief efforts," says Ruchika. "The challenge was to convert the contribution from Flipkart to materials, and transport them to the impact zones—and the only way to do this was by road."
Efforts in Bihar
Clothes, tarpaulins and medical supplies were arranged and planned for distribution in batches. "For about four months, we continued to provide relief material to Nepal, but then we hit another roadblock," mentions Niranjana, who was heading the initiative from Flipkart. Fresh restrictions from the new Nepalese government forced Goonj and other foreign NGOs to suspend efforts from the devastated mountain kingdom. "We were stuck, but didn't want to stop the relief drive. So we quickly channeled the rest of the contribution to Goonj's existing quake relief work in other impacted parts of India," says Niranjana.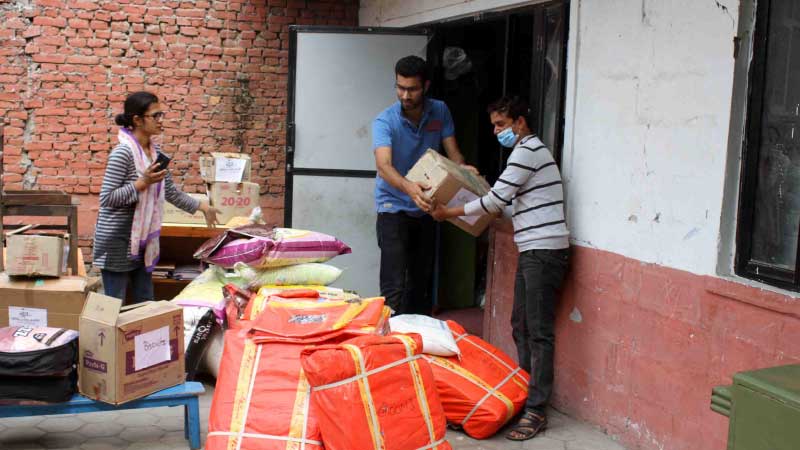 On the barren foothills of the Bihar side of the Himalayas, a team of volunteers worked relentlessly towards rebuilding the broken district of Purnea. Only days before the earthquake the people of this region had been hit by a massive cyclone and this second disaster further upset their lives. The region was formed by the East India Company in 1770, and had witnessed the wrath of the earthquake back in 1937 as well. At a time when stories of the first historic tremor were turning into fables, this wave of destruction reincarnated on April 25, 2015, like a nightmare. Structures collapsed and the land split—58 deaths were recorded across Bihar, Purnea being the highest impacted.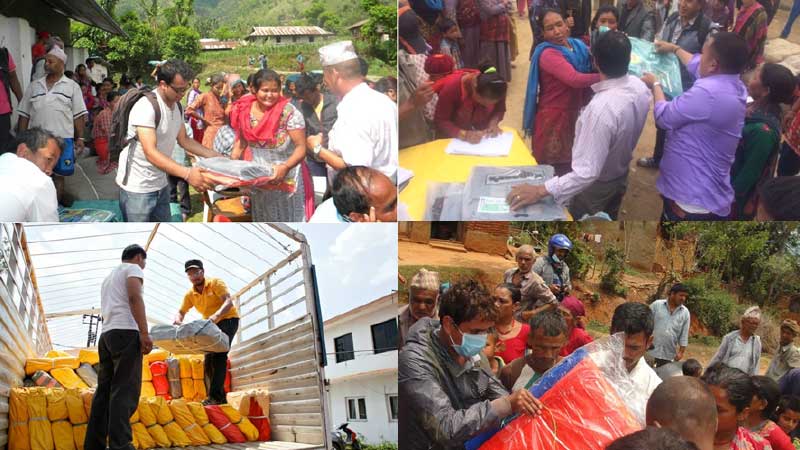 "Our team and volunteers have been working in Bihar since 2008, providing relief to the Kosi Flood victims. We were on the field when the earthquake hit last year. There were boulders rolling, the land cracking and buildings breaking down," says Sheoji Chaturvedi, Goonj's Bihar Coordinator. Parts of Sitamarhi, Darbhanga, Muzaffarpur, Gopalganj, Champaran and Supual were all hit by the aftermath, but Purnea was, by far, the worst affected. "The material is transported directly from our city offices across India to the implementation zones and till date this has ensured the relief efforts remain uninterrupted," Sheoji adds.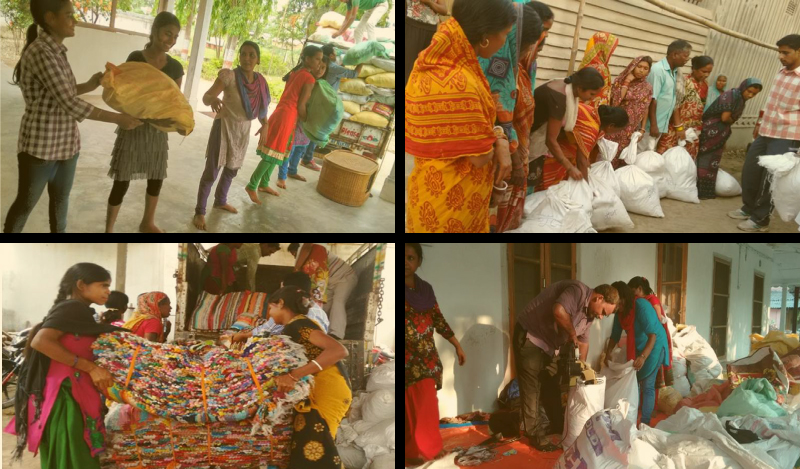 Goonj has urban operations in almost all big metros in India. In its rural relief and rehab work Goonj brought its strong ethos of making everyone a stakeholder in the development work. Sheoji says,"Even the villagers joined in and this soon became a community effort. It feels like we are part of the same family. Everyone knows everyone else," he says.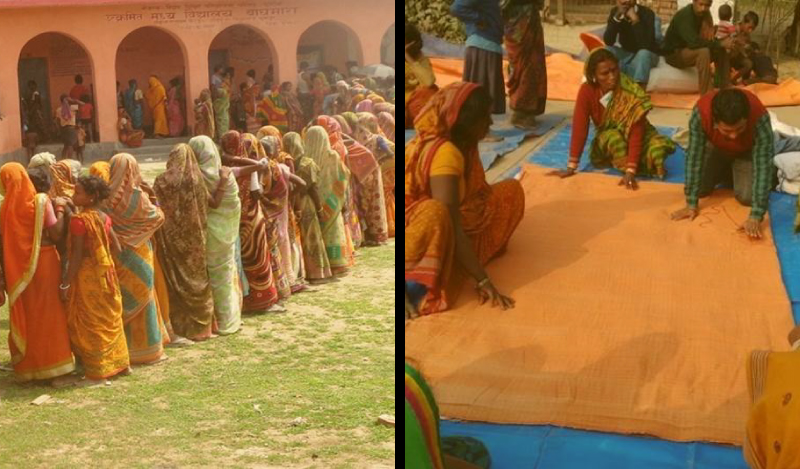 Today, a year after the quake, Goonj and Flipkart continue to rebuild the lives of survivors of the 2015 earthquake in Bihar. Recently, a team of volunteers working with the residents completed the construction of a school in Purnea. "The progress has been incremental, but the results are definitely encouraging," mentions Sachin.
While none of what is lost can ever be recovered, hope, relief efforts and the greatness of the human spirit continue to make lives better for the survivors of the 2015 Nepal-Bihar earthquake.
……
We at Flipkart thank our customers, sellers, partners and employees for contributing towards the 2015 quake-relief fund. Today, all your contributions have reached the disaster victims in the form of supplies and materials, and have deeply contributed towards progress in these regions.

A special thanks to the volunteers and team Goonj for all their unrelenting effort and determination.

……