The new Samsung Gear S2 smart wearables are here!
The Samsung Gear S2 with its fully circular design and Tizen-powered heart is impressive at first glance and touch. This smartwatch from Samsung comes to us in two design options — the larger and sportier S2 (42.3 X 49.8 mm size) and its sleeker, more formal cousin S2 Classic (39.9 X 43.6 mm). Priced at INR 22,500 and INR 23,900 respectively, both watches are power-packed with features that usher in a new trend in wearable technology. Here are 11 features of these new Samsung smartwatches that impressed us.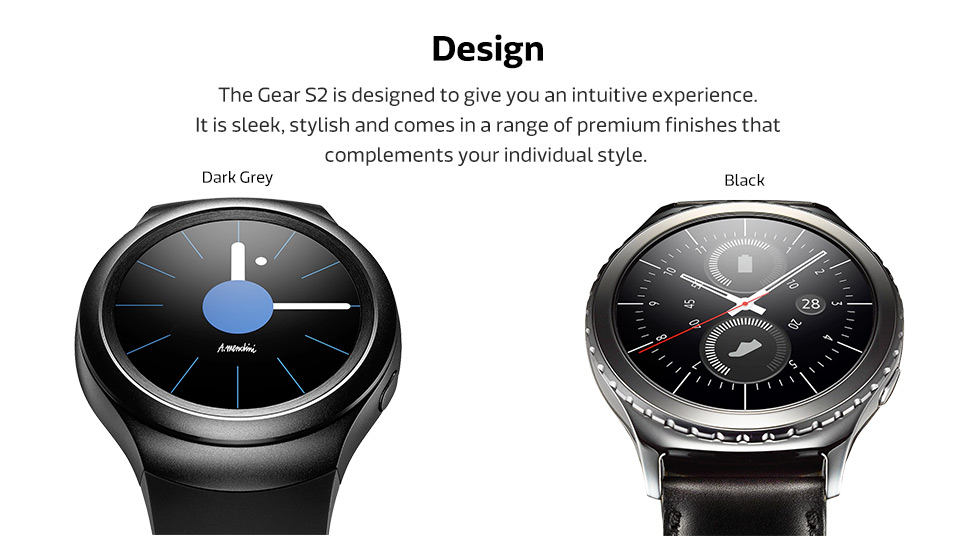 Samsung Gear S2 – Rotating bezel
The highly anticipated rotating bezel is a feature of both the Samsung Gear S2 and the S2 Classic. The bezel is cleanly integrated around the touch-surface of the watch and is designed to minimize screen-tapping and ease recurring operations. It brings more accuracy to shifting through menus and produces an intuitive 'click' sound at every movement.
The IP standard
The S2 watches are certified IP68, which means they are completely dust-proof and can be completely submerged in water of more than 1-meter depth. Basically, wear 'em and don't sweat the small stuff!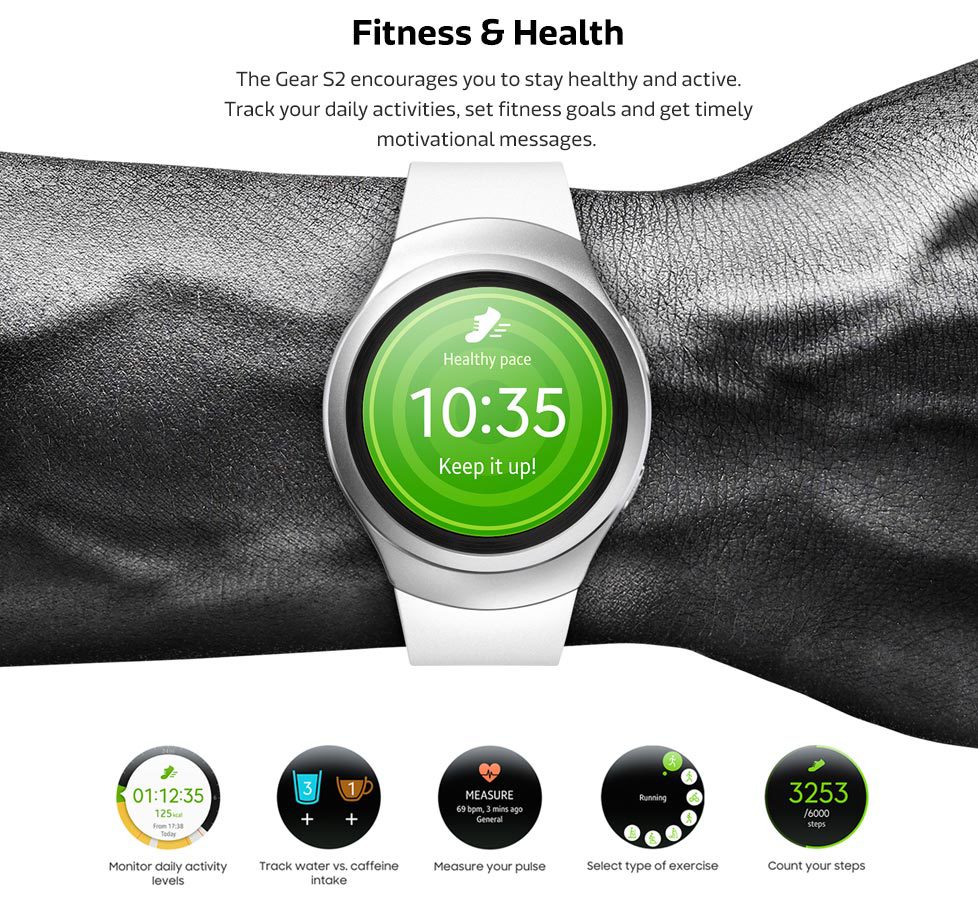 Fitness first
The watches include all the hardware to ensure your fitness is properly tracked — including a pedometer and a heart-rate sensor. They come pre-installed with the S Health app, which tracks energy burn rate, water and caffeine intake as well as the intensity of your workout. No more excuses to fall short of those fitness goals!
Display diaries
In the world of smart tech, looks aren't nothing without display and these watches have got that covered. Switching from the square shape to the circular form, the Gear S2 now has a 1.2-inch AMOLED display with 302 ppi. The screen is bright and the details are clearly visible, so you don't miss out on what's happening.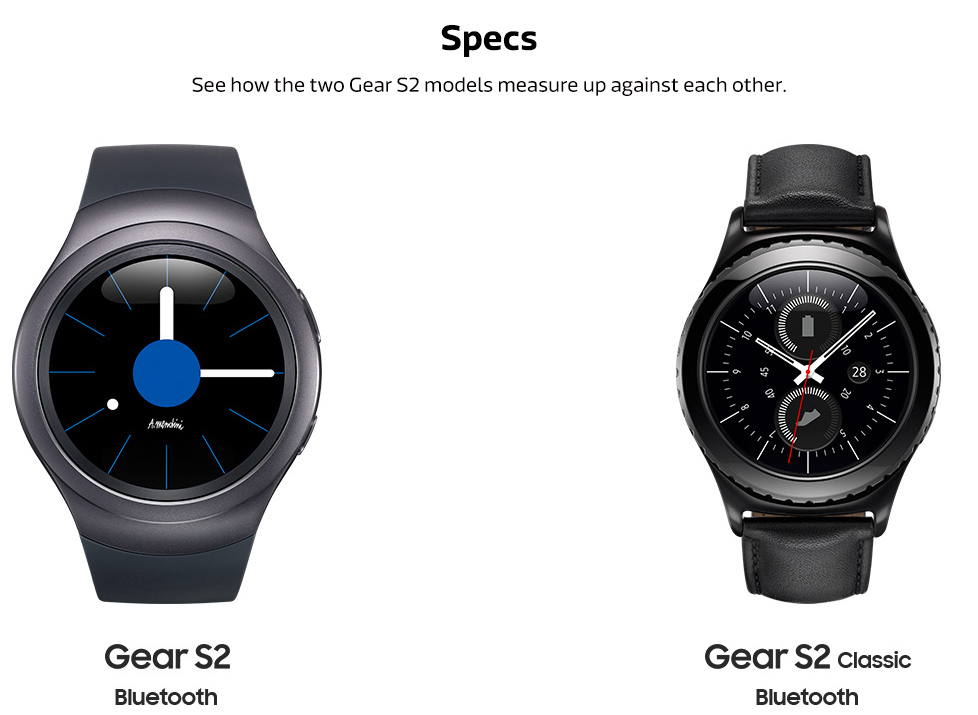 The Tizen
The wearables come with Samsung's in-house Tizen operating system that connects to any smartphone running Android 4.4 or later versions. The OS not only enables you to reply to text messages with pre-set responses, but also allows you to write personalized messages using predictive text. Another interesting feature is the old 10-button layout used in old, forgotten phones — and we love that this retro feature has made a comeback.
Limitless choices in Samsung Gear S2
Italian designer Alessandro Mendini has infused pizzazz to the S2's dial and straps, so you are assured that this smartwatch will never go out of style or flavor. With a lush list of options to customize the dial faces — built-in and downloadable from the app store — you're sure to find something that suits your mood and the latest trend.
Pay easy
The watch supports NFC and can be used with Samsung Pay to make transactions by simple no-contact payment technology. So what's on your wish list?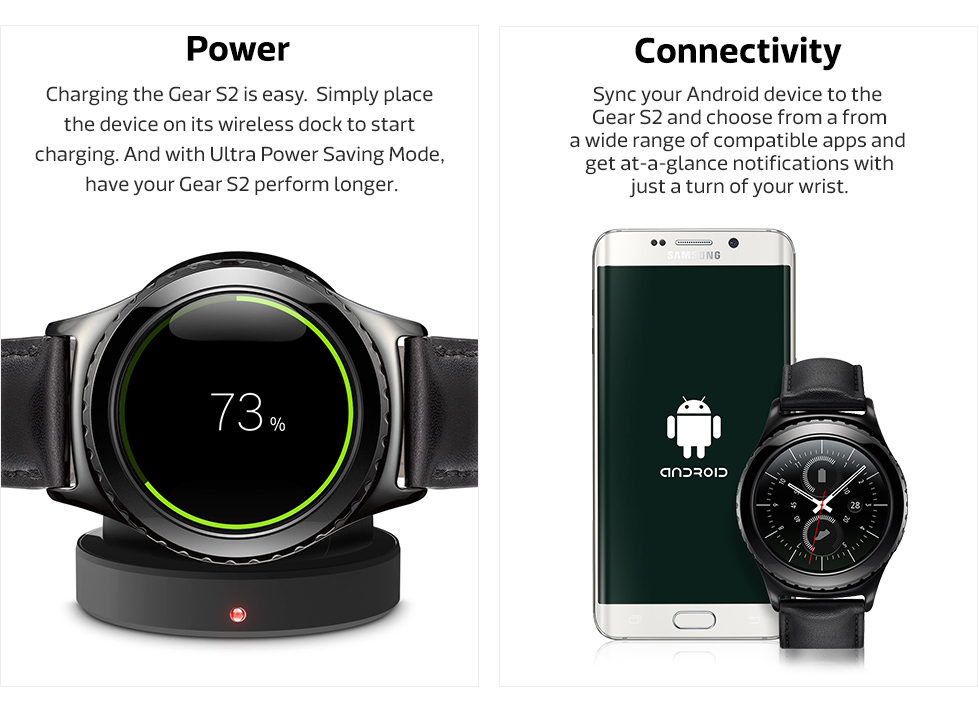 The brains
Powering this smartwatch is Samsung's Exynos 3250 processor. With a clock speed of 1 GHz, this dual-core processor combines 512MB of RAM to ensure that all the apps work seamlessly. So scroll, swipe, click and type to your heart's content.
Power packed
With a 250mAh battery, the S2 will easily last for more than a day—and more importantly, charging the battery is fun. Place the watches on the upright dock with wireless charging that ensures you can pick up the S2 in a jiffy and head out for that early morning run. What's more, the Ultra Power Saving Mode ensures that the battery stretches on for longer.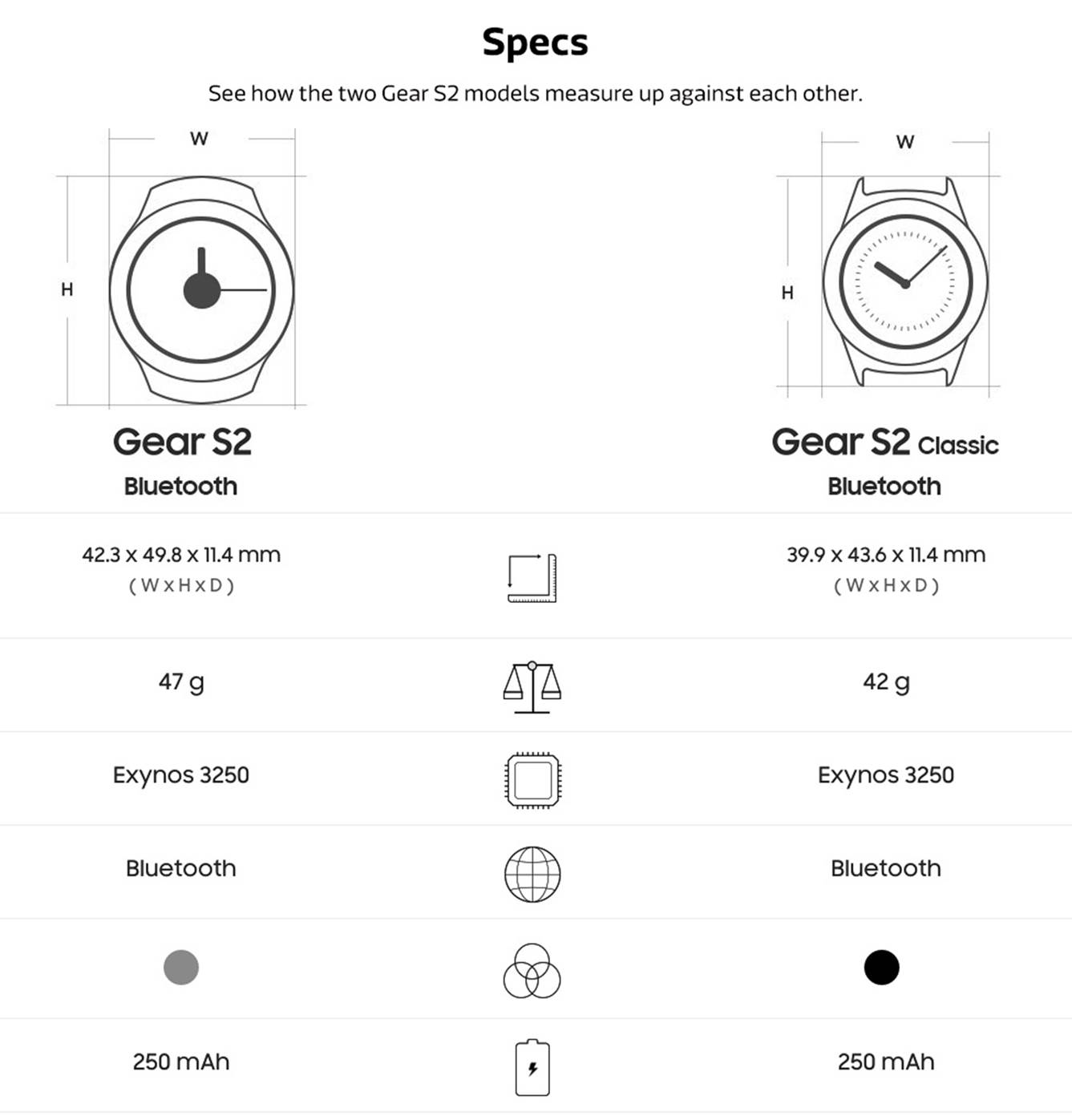 Remember much?
Be it real-time updates like weather and navigation or in-device data like music, the Samsung Gear S2 offers enough data crunching power and space for your daily use. With 4GB of internal memory, the watches have enough space for all the additional data you want.
Style quotient
So you've bought yourself a smartwatch that will keep you updated in each of your worlds—from personal emails and messages to the office timetable that helps you navigate your next appointment without having to bother to pull out your phone—but does the smartwatch stick out like a sore thumb? With the Samsung Gear S2 smartwatches, you don't look like you are from the 1980's when mobile phones were the size of briefcases. The watch blends in on your arm, looking like it belongs there.
The Samsung Gear S2 smartwatches are currently available on Flipkart. Click on the links or banners to find more details about the Gear S2 and Gear S2 Classic wearable devices.